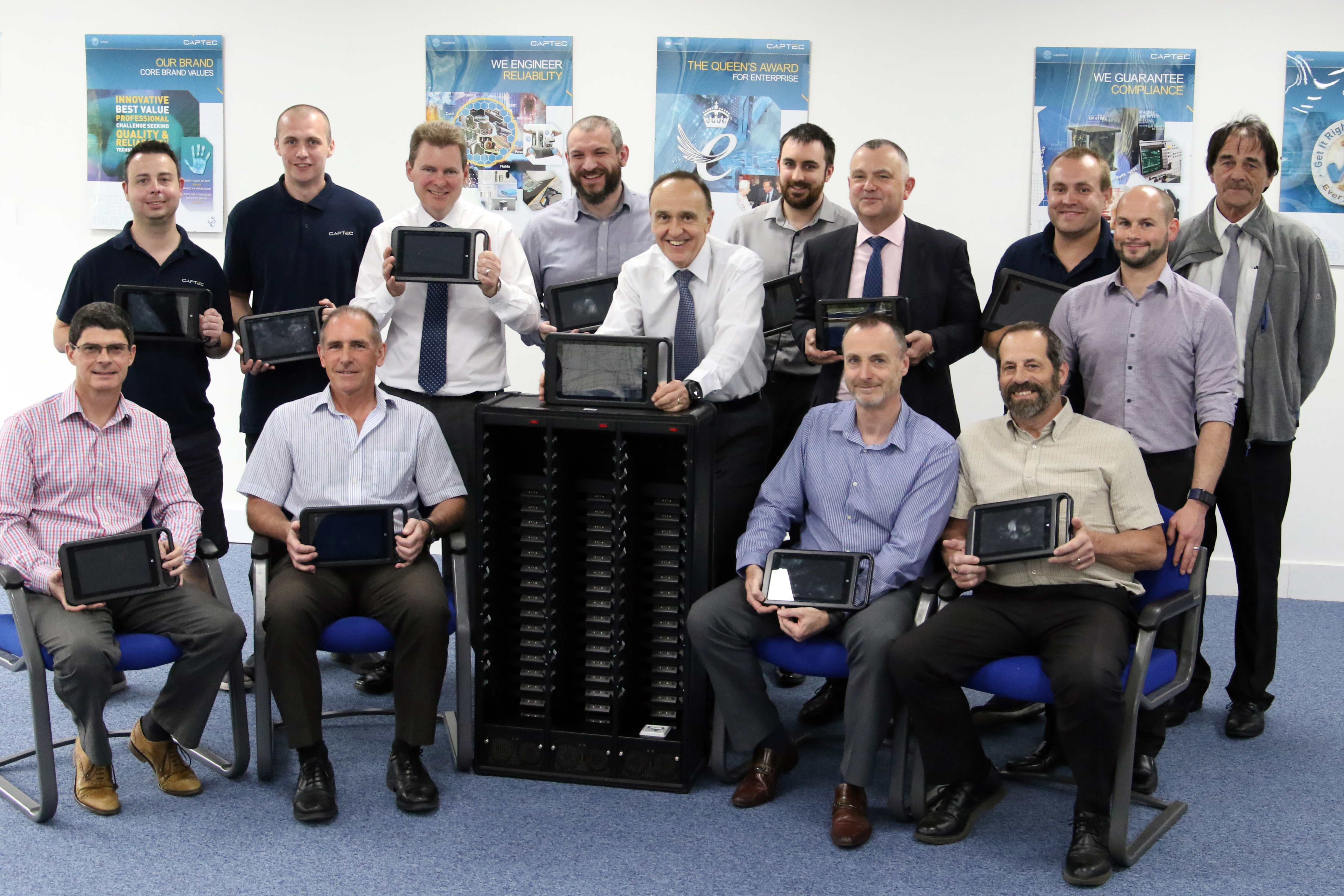 We are pleased to announce we have won our second Queen's Award for Enterprise, this time in the prestigious Innovation category. The internationally-recognised Award honours Captec's innovation in creating  tablet platforms for enterprise workflow automation, and follows an Enterprise Export accolade in 2016.
The award-winning innovations covered both product and process.  Technical innovations were centred on the tablets's custom cost-effective design, advanced power management electronics, extended battery power pack and an ergonomic protective enclosure. These further extended to group charging stations – capable of the cable-free charging of 16 to 60 tablets concurrently – that also deliver wired Ethernet connection for updates and diagnostics whilst charging.
To assure the commercial viability of its solutions, Captec further-innovated its manufacturing, servicing and supply chain processes. These award-winning tablets have been deployed with extensive commercial success in the leisure industry – both in the UK and North America – and are now being marketed into additional enterprise workflow applications such as healthcare and education.
In order to meet the criteria laid out by the Queen's Awards, innovations must have been available on the market for at least two years. Captec also had to demonstrate that all investments made in the innovation had been recovered, while showing outstanding commercial success as a result of the innovation within two years of market release.
Max Toti, Founder and CEO, Captec, said:
"Our second Queen's Award recognises the broad spectrum of contributors from all our staff involved in this new product line, our supply chain partners who helped us realise the product and fulfil demand, and our valued customers who put their trust in us.
To date, our greatest success with this product line has been in bingo gaming tablets, for which we are truly grateful to our early adopter customers who helped us through the teething journey. This innovation and Award is a very proud achievement for the Captec team."
Captec's previous Queen's Award win recognised substantial economic growth and strong export figures. Captec was honoured for outstanding international trade results in a period which also saw the company listed in the Sunday Times Profit Track 100.
The latest award is a demonstration of Captec's strategy to grow through innovative products, capabilities, services and acquisitions, as it moves rapidly towards IPO floatation.